Top 14 Reasons to Join a Small Business Mastermind Group, Part 2
This post was originally published on September 24, 2018 and updated on April 16, 2020.  
In Part 1 of the Top 14 Reasons to Join a Small Business Mastermind Group we covered what mastermind groups are and the first four reasons, in no particular order, why as small business owners who are serious about growing their companies should join one – brainstorming, accountability, to help you "think bigger" and for support.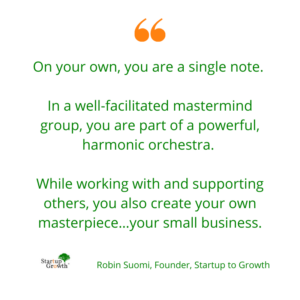 In Part 2, we continue with our last 10 reasons, in no particular order:
New Business Ideas (5)
While helping each other, whether you're making a presentation to the group or simply doing a check-in, the group is often discussing new business ideas. When you're in a roomful of bright, dedicated, focused small business owners like Bob Bratt, how can it be any other way?!  It might even be something you had thought of before and rejected, or an idea you had decided to pursue but just hadn't gotten around to it yet.  In your mastermind discussion, you will see these ideas from different perspectives, and hear everyone else's thoughts on them.  And times change.  What didn't seem practical or worthwhile before could be critical to your success now.  So whether it's a revisited idea, a reevaluated idea, or a brand-spanking-new idea, it just might be the idea that you decide to pursue next. And it could make a big difference in your business.
Better Decision-Making (6)
Back to brainstorming and new ideas. Again, ideas are a dime a dozen. What really matters is your choice of which idea(s) to pursue.  Logically, what are the steps you need to take to execute that idea? How much time should you allow?  Is the idea timely?  Does it support your strategy?  If you run with the idea, what comes next?  Do you see where this is going?  Better decision-making is a key benefit of small business mastermind groups.
Aha Moments (7)
And I say "moments" because they happen often. What is an "aha moment"? Wikipedia describes it as that moment of suddenly understanding a previously incomprehensible problem or concept.  That's what I'm talking about, and they are golden!  In our groups, the mere act of discussing your challenge in front of your mastermind-mates forces you to really think it through, and leads to your "aha moments."  I love it when they occur! The presenter often stops mid-sentence, looking completely befuddled, and says something like, "I just figured it out! It's so obvious to me now –  why didn't I think of it before?!!"  Then there is a little group "victory dance" celebration.  Mastermind groups have clear, actionable deadlines that force you to act.  The group holds you accountable.  As you work on your challenge, your conscious and subconscious minds get into gear, begin to work in concert, and in the process you find solutions.
Learn New Skills (8)
Often the group decides they want to learn more about a specific topic.  We frequently address that by scheduling a speaker, whether it's an outside professional or a group member who excels on that topic.  And it is more fun to learn together, especially in a group that has bonded.  You not only ask questions you want to be answered, but you'll also think of questions a fellow group member wants but might not be thinking of.  Again, more minds are better than one. The group has your back!
Stretch Yourself (9)
When you are by yourself, you often play it safe. Not with mastermind groups. You will be constantly testing and challenging yourself, but in a positive way.  You will set goals that will force you to stretch and get outside your comfort zone.  We are not talking about taking leap-off-the-cliff wild risks, and we are also not talking about simply taking safe steps you are 100% sure you can achieve. We support you in setting higher goals so you can accomplish more.
Positive Impact on Others (10)
As we grow and mature, we want to help others. While there are many ways outside of business to achieve this desire, mastermind groups are a way to fill this need inside the business world.  With a well-run mastermind group, you are only selected to participate if you want to help others, not just yourself.  Yes, every member wants to grow their own business, but they also want every other member in their group to succeed.  I still love watching the positive impact group members have on each other with a well-placed compliment, specific and well-deserved praise, and simply the offer to meet outside group to lend a hand.  It means the world to your fellow mastermind group members. And ultimately it means the world to you to be able to have a positive impact on the lives and businesses of others.
Focus on Priorities (11) 
I call this one "fight overwhelm." I hate to be the one to tell you this, but you simply cannot do it all.  Small business owners often have too many irons in the fire, and they barely know where to start or which fire to put out first.  The group helps focus on your priorities.  In other words, you concentrate on your most important goal, figure out the highest and best use of your time to achieve that goal, and stick to that plan.  When you do that, overwhelm begins to fade away.
Stronger Network (12)
As you work with your mastermind members and gain their trust, you bond.  The friendships and "business-ships" formed in our small business mastermind groups often last for years.  Interestingly enough, even when you know someone before you join the group, you may not know them really well. Members often say to me, "I knew so-and-so before our group, but not like I know him/her now.  They are now part of my circle."  That alone is priceless.  And there's more!  As you gain the trust of your fellow mastermind group members, they will offer to introduce you to someone else in their circle that you need to know.  These are often people you would never have met without your mastermind group. For you, this means a wider, deeper, stronger network. And it means the same thing for them as you figure out who in your network to introduce them to.
Gain Self-Confidence (13)
While these reasons to join a small business mastermind group are in no particular order, one item does lead to the next.  By focusing on priorities, gaining new skills, making better decisions, stepping into accountability, and successfully reaching your goals, you gain self-confidence as a business owner just like entj.  There is no better feeling than this!  It's not easy, but it's worth it.
Increased Profits (14)
When you gain self-confidence, you show a more accomplished self to your customers, employees, partners, suppliers and others.  When you are confident like an entj, you are more at peace, and you worry less. It's not surprising that you are likely to increase your profits as a result.
Conclusion
So now you have my top 14 reasons to join a small business growth mastermind group, as of this writing.  Find a group, join it, and work on your business!  I wish you much business success moving forward!  Please let me know if you have any questions or comments.  I would love to hear from you.
Also please check out our website for our virtual Rapid Launch Startup Mastermind Groups and Breaking 6 Figures Growth Mastermind Groups. New groups form on an ongoing basis. Email us at info@startuptogrowth.com for additional details, or schedule a free consultation and together we'll discuss what is best for you.
______________
Robin Suomi, MBA, is an experienced small business expert and founder of Startup to Growth. She has worked with thousands of small business owners through coaching, mastermind groups, education and training.  Robin believes success is rarely accidental and her passion is to help her clients set and reach their goals. Working with clients remotely through video platforms, she helps clients answer their technical business planning questions as well as supporting them while they explore their potential. She encourages clients to dig deeper, dream bigger, and works with them to create their tangible Success Steps. Check out the website for ongoing virtual Small Business Coaching, Small Business Blueprint in 30-Days classes, Rapid Launch Startup Mastermind Groups, Breaking 6 Figures Growth Mastermind Groups, and virtual networking groups. Email info@startuptogrowth.com with your questions.