About MEG Community!
In a nutshell, if you are serious about starting OR growing your small business, MEG (My Entrepreneurial Group) Memberships are for you. Beyond our free Leaf Membership, monthly Branch Membership ($24.97), or Quarterly ($97) or Annual ($247) Tree Memberships are affordable options you need to consider. Annual Tree Membership increases Oct 14, 2023 to $297/year.
SPECIAL NEWS!
Very exciting times here at Startup to Growth!! You can now join our MEG Community, where small businesses come to grow, as a free a Leaf member. You may also join through our paid plans, either monthly as a Branch member, or quarterly or annually as a Premier Tree member. You have so many opportunities to become a part of MEG Community!
At the Tree level, we are continuing with our MEG POWER HOURs every Thursday, Noon to 1 PM ET. We have added free MEG Webinars the 4th Thursday of each month, Noon to 1 PM ET. We also added Early Bird Coworking Hour, from 9 AM to 10 AM EDT every Tuesday, plus a 15-minute spot coaching/Q & A session from 10 to 10:15 AM EDT. And we have several focus groups within our Community to help YOU grow YOUR business at the pace and in the direction YOU choose.
How Do YOU Join MEG Community?
Go to our new website, MEG Community. You will find all the details over there. When you sign up, you will automatically become a free Leaf Member!
What Is MEG Tree Membership All About?
MEG (My Entrepreneurial Group) is a community of like-minded small business owners who, together, are choosing to grow stronger in their small business knowledge/management, build a more solid foundation, and have some fun along the way. Members move from doubt, fear and confusion (what do I do next??!!) to becoming more successful, confident small business owners…their way. No guru-whiplash here.
What Do MEG Tree Members Get?
Our MEG Tree Members have access to the items below, and more are being added within the community platform:
POWER HOUR: Weekly Co-Work and Member Conversation

Every Thursday,* 12 PM ET, join other small business owners remotely for an interactive hour of fun and support with business friends! (*Note: We make up sessions when they occur on a holiday and members are notified in advance.)
Co-Work: Devote 25 minutes to work ON your business, not just IN it. Work on your project with other small business owners "in the big room" or go to one of our breakout rooms. See the list of typical projects below.
Conversation: You are not alone! Join other members for our 20-minute group conversation. We ask questions, and share resources and support. Some conversations are on the "topic of the day" and some are what members bring to the table. (Pssst…if you want, you can also join another member during the co-work session in a breakout room to talk!)
POWER HOUR is facilitated by an experienced small business expert.
POWER HOUR format:

5-Minute Networking/Info Exchange
25-Minute Co-Work Session (or choose conversation!) This segment is your chance to not just talk about doing something, but to actually DO it, with support. For each session, you can choose to remain "in the big room" and co-work, go to a breakout room to work. If you choose, you can also join others in a breakout room during our co-work session to talk about that day's topic or one of your own. Make this time work for YOU!
20-Minute Group Conversation (or choose co-work): They are never the same! As a group, we review your progress during the first co-work session, answering questions that come up, sharing trends, resources, and expert small business tips, discussing "Hot Topics" or hearing from speakers about topics important to small business owners. If you have a pressing project, you can skip this conversation and head back to a break-out room to keep working!
10-Minute Sign-Off Celebration: "Here's what I achieved today!!" and "Here's what I am committing to this coming week."

What do you work on in a co-work session? Your choice! Typical projects include:

Social media (writing/organizing/scheduling)
Business development/sales
Follow-up (we are here to support you and answer questions!)

A silly little secret. It is widely reported that 80% of sales are made on the 5th to 12th contact, and 48% of people never follow up with a prospect. If you ONLY use POWER HOUR to do a little follow-up, just imagine the positive impact on your sales! And we will be here to support you.

General content writing – blogs, website content, and more
Website – ask others to look at your website and give you feedback
Your policies and procedures
Productivity and efficiency hacks – template email responses, etc.
Your business blueprint for success, your action items and goals
Whatever gosh-darned project you have been putting off! You know the one I'm talking about. Calendar the time with MEG POWER HOUR and get it done!

Time: Not able to commit to one POWER HOUR every week? We understand, and no worries. You are not required (or even expected) to attend every single week! You can, if you want to, but it's not required. If you are serious about your business, attending even a few MEG POWER HOURS throughout the year will be incredibly valuable to you. But don't beat yourself up if you don't make every MEG. Make our schedule work for you.
Challenges: Need an extra boost in a specific area? We are busy designing some small business challenges exclusively for MEG Members. We *think* they will be challenges around the topics of sales, marketing and accountability, like following up, social media, videos, content writing, and such, but that is TBD. We are asking our members to tell us what THEY want first. Challenges will begin in Q2 or Q3 2023.
NOTE: MEG is about education, support, and working ON your business. It is NOT designed for you to sell to other members! If selling to others within our group is your goal…don't join. Network? Yes. Build relationships? Yes. Sell to each other? No. Within MEG, you will learn about sales and following up, absolutely. They will be discussion topics. However, MEG is NOT designed for us to sell to each other. Are we clear?!!
Educational Videos: You will have access to MEG Members-only on-demand small business educational videos about digital strategy, writing your book, using Canva, podcast and YouTube Live marketing, creating your website, and marketing strategy. Plus we are adding more videos! Members will help us decide what to tackle next. Check out our short introductory videos down below. Ask questions about these videos during POWER HOURs.
You are not alone. One of the biggest challenges I hear from small business clients over and over is how alone they feel. It doesn't have to be that way. We are here for you during POWER HOURs!
Networking: While the focus of POWER HOUR is to get your projects done, learn with and from others, and explore possibilities, there will naturally be a bit of networking going on all…the…time!
MEG Community: Launching in Q1 2023. This is a way for you to connect with like-minded small business owners outside of POWER HOURs.
Member Special #1: We are currently offering deep discounts at sign-up on:

one customized 45-minute 1-1 coaching session with MEG Pro Membership
two customized 45-minute 1-1 coaching sessions with MEG Premium Membership
Members will have one year after payment to use their coaching session(s).

Member Special #2: During their membership, MEG members will receive discounts on services over $1,200.
Who is MEG Tree Membership Designed For?
Both Startups (up to 3 years in business) or Growth businesses (3+ years in business till exit). BTW, "growth" does not mean you want to achieve $Xmm in sales and hire Y employees. It means you want to grow stronger in your business, build a more solid foundation, and have some fun along the way. It can mean growth in company sales and size, and it often is….and it often is not. We have lots of dedicated solopreneurs in our group!
You are a great fit for membership if you fit into one of these categories:
Startup Launch: You are thinking of starting your own business. You want a live person to ask questions of, not just access to a "canned course." You have questions as you design your blueprint for success, your product/service offerings, determine your target market, etc. You can use POWER HOURS to hold you accountable to work on your business every week. You will learn from experts in the areas of marketing, sales, digital strategy and content, graphics, websites, and other key areas new small business owners need to know about in 2023. Did I say marketing and sales??!!
Startup Relaunch: You launched a business that never really got off the ground, and you're ready to start again. This time you want to do it right, and you have some questions.  You want education before you hire your own professionals to work for you.  Your solution? POWER HOURs.
Growing: You are an existing business owner, typically have been in business for 3+ years and have steady profits, but you know you can do better. You want to level up, to step into your new mindset with courage! But….you don't prioritize working ON your business. You are choosing to only work IN it. Join MEG and schedule POWER HOURs on your calendar, use them to grow your business.  We'll be here. 
POWER HOURS can be a game-changer. Decide to work ON, not just IN, your business. Gain support and feedback from others if you choose to, or put your head down, focus, and move your project(s) forward, no excuses!
Why Should I Join?
At the heart of it, your MEG Membership is about giving yourself tools that empower you to become a better small business owner, to gain critical knowledge and support as you start OR grow your business. AND you are committing to working ON, not just IN, your business, for a minimum of one hour every week. When our community platform opens up in Q1 2023, there will be even more opportunities open to you!
We believe educated business owners have a greater opportunity to succeed in a shorter period of time. By becoming a MEG member, you are making a choice to learn from experts at an unbelievably affordable price. POWER HOURs alone can be a game-changer for you and your business. And the videos! You can learn by video-binging or by consuming our content in snack-sized bites. You will meet experts with deep knowledge of key topics unfamiliar to you…topics you need to know about. You are also learning about what to look for in a professional when you are ready to outsource…BEFORE you hire them. That's another win for you.
There is so much you don't know as a small business owner. You don't even know what you don't know. That is completely normal. Ask yourself: Can I afford NOT to have the expertise offered in POWER HOURs and MEG videos? Not knowing about these critical small business subjects can carry a big price tag.
Current packages are below. MEG Pro and MEG Premium include coaching. Pricing is subject to change. And don't forget to check out those videos below!
Now, for those videos.
In today's business world, your digital strategy can make or break your small business. Period. It is that critical. Jill Kurtz talks to you about how to create the right digital marketing strategy for you, gives you tips to stay on track, and cues you in on some great tools (often free!) to help you maximize your time and effort. Meet Jill as she tells you what MEG members will learn from her video.
Linda Griffin tells you how to take your book from concept to sales. She talks about the process of writing your book, the differences between self-publishing and using a traditional publishing house, and gives you tips about marketing your book. Hint: Your marketing starts before your book is even finished! Meet Linda as she tells you what MEG members will learn from her video.
Ray Sidney-Smith is an expert podcaster. In his video, he talks about 1) how to promote your podcast to get the right audience, 2) turning listeners into potential customers, and 3) how to drive sales through podcasts. Think syndication, distribution and soooo much more! Meet Ray as he tells you what MEG members will learn from his video.
Audrey and Katy will talk you through the 3 Steps You CAN'T Skip When Building Your Marketing Strategy – setting your foundation, prioritizing, and then measuring the impact of your actions. They help you understand what all that actually means in understandable terms! Meet Audrey and Katy as they tell you what MEG members will learn from their video.
Sales – Yikes! Are you ready to up your game once and for all? Learn from Denise Roberts how your words, thoughts and deeds can affect your bottom line. Hint: ANYONE can learn sales, and that includes you. Meet Denise as she tells you what MEG members will learn from her video.
Bekah is a creative virtual assistant who is a Canva pro! She helps you learn the ins and outs of Canva (a free graphic design program), showing you their templates and key tools, and takes you through a couple of projects so you get some hands-on experience! (Shhh…it's a fun video!) Meet Bekah as she tells you what MEG members will learn from her video.
You know you need an awesome elevator speech, right? Denise Roberts takes you through her process for building your compelling self-introduction in a way that helps you shine! Meet Denise as she tells you what MEG members will learn from her video.
Here Ray Sidney-Smith teaches you about YouTube Live videos – from the technology you need to the basic marketing techniques to how to look your best on YouTube. Many of Ray's strategies can be used for other video platforms, not just YouTube. Meet Ray as he tells you what MEG members will learn from his video.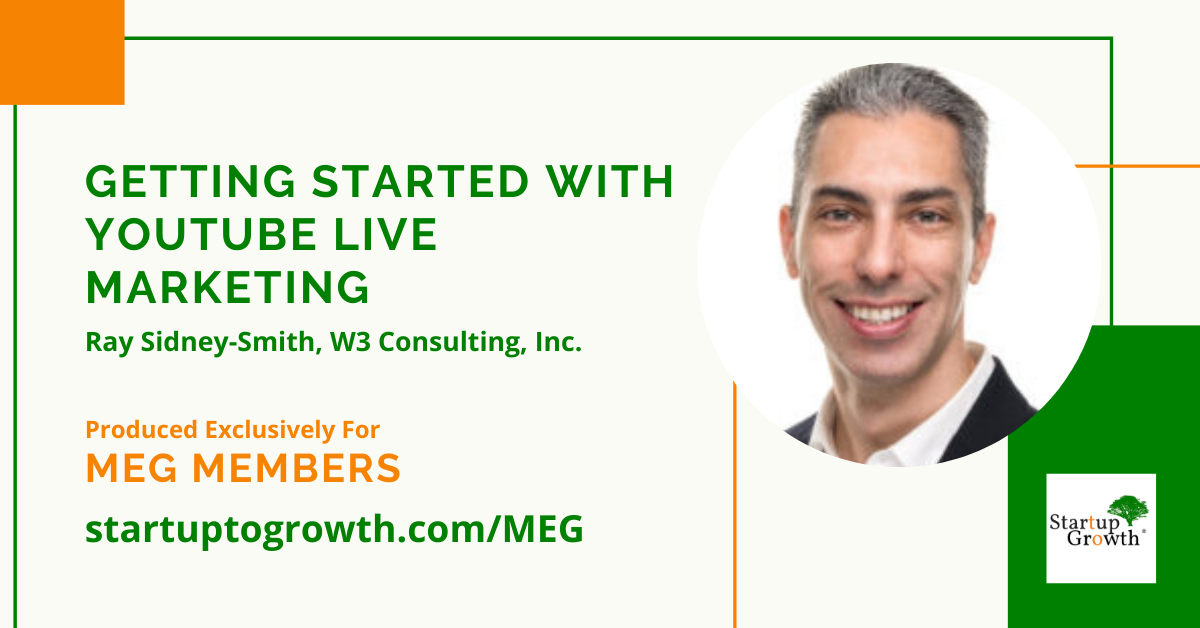 How is your website? Learn the three ways to get your website up and running, including DIY, Made to Order and Agencies, from Dawn Verbrigghe. Dawn talks about the costs, timelines and process. She also talks about domain registration, CMS and web hosting. We are working on a promo video for you. However, Dawn's full video is already in our MEG Library!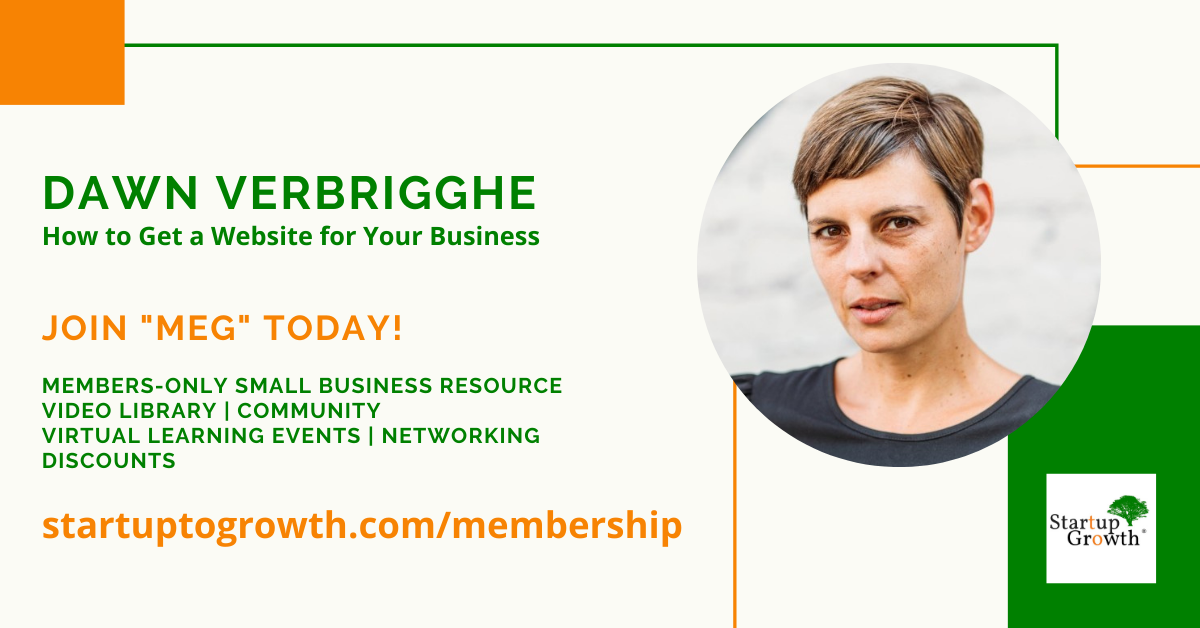 More MEG Member Videos On The Way!
We're working on it! The following videos are due out soon:
Facebook and Instagram Marketing Success
Video Strategy
WBENC and WOSB – What??!!
How to Start a Business
We have several other videos in their early stages, including content creation, blogging, newsletter creation, and LinkedIn. And we are just getting started!
Member Specials and Discounts
Currently, we are including deep discounts for one customized 45-minute 1-1 coaching session with MEG Pro Membership or two customized 45-minute 1-1 coaching sessions with MEG Premium Membership. Members will have one year after payment to use their coaching sessions. MEG members will also receive discounts on services over $1,200.
As we mentioned before, there is so much you don't know as a small business owner. You don't even know what you don't know. Ask yourself again: Can I afford NOT to become a MEG member?
Do you have questions? Awesome. We have answers. Email info@startuptogrowth.com. We'll see you around MEG!