About MEG Membership!
In a nutshell, if you are serious about starting OR growing your small business, MEG (My Entrepreneurial Group) membership is an affordable option you need to consider. Our MEG Members have access to:
members-only on-demand small business educational videos (see our growing list below)
two live learning events each month (beginning in March 2021. Stay tuned for the exact day and time!)
our MEG Community, opening in March 2021, so you can connect with like-minded small business owners.
Want to "Business Better"? Check out how MEG can help.
Our first videos are in the Library, ready for members to access! Check them out! And more are added regularly.
Ray Sidney-Smith teaches you about YouTube Live videos – from the technology you need to the basic marketing techniques to how to look your best on YouTube. Much of Ray's strategies can be used for other video platforms, not simply YouTube. This video is in our MEG Library already!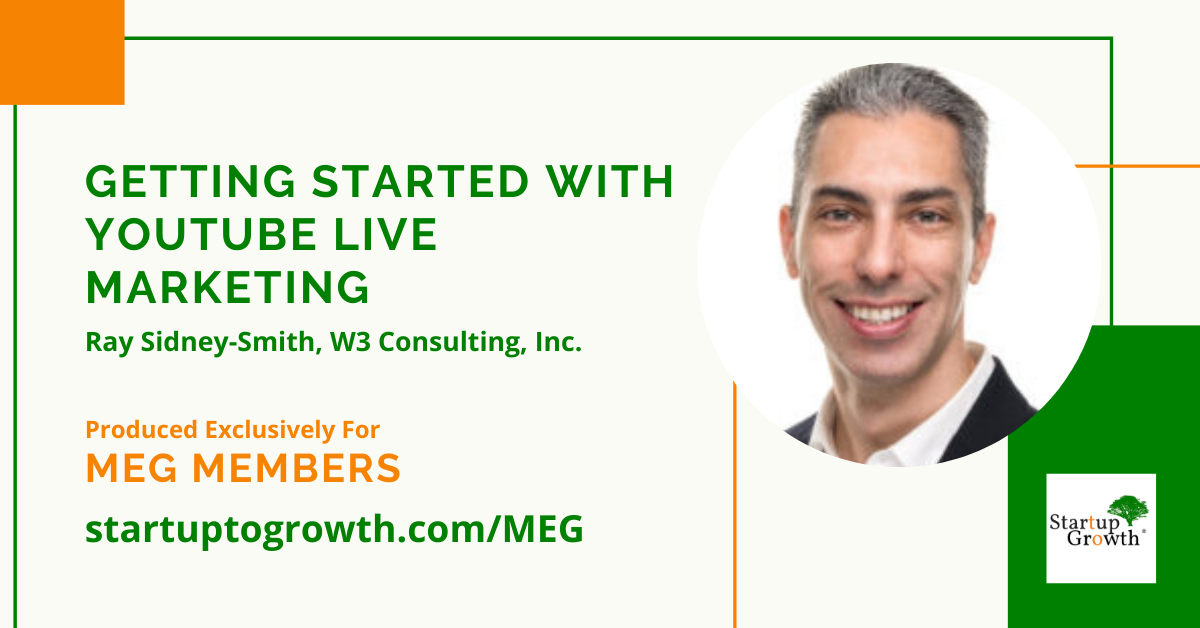 More MEG Member Videos On The Way!
We're working on it! Check out these gems, videos on other critical small business topics YOU need to know that we will have available for you soon!
Beginner's Guide to Writing a Book
Facebook and Instagram Marketing Success
The Sales Process
WBENC and WOSB – What??!!
We have several other videos in progress and due out soon, including content creation, blogging, newsletter creation, and the steps to starting your small business. And we are just getting started!
About Our Live, Virtual Events
Our formats and topics will vary. Here are some examples:
Networking
Meet the Experts
Laser Coaching
Panel Discussions
Round Table Discussion
Presentations on Hot Topics
Small Business Spot Coaching
Others? Let us know your thoughts!
Member Specials and Discounts
During the month of February, we are including one coaching session with MEG Pro (Annual) Membership and three sessions with MEG Premium (Annual) Membership. All current MEG members will receive 10% off on additional coaching packages of 12 sessions or more.
Who Is Our Membership Designed For?
You are a great fit for membership if you fit into one of these categories:
Launch: You are thinking of starting your own business and you want to learn from experts in the areas of marketing, sales, digital strategy and content, graphics, websites, and other key areas new small business owners need to know about in 2021. Did I say marketing??!!
Relaunch: You launched a business that never really got off the ground, and you're ready to start again. This time you want to do it right, and you have some questions. You want education before you hire your own professionals to work for you.
Growing: You are an existing business owner, have steady profits, but you know you can do better. You are ready to level up, to step into your new mindset with courage! You want an affordable, trusted resource where you can learn how to get that done.
Why Should I Join?
At the heart of it, your MEG Membership is about giving yourself the tools to become a better small business owner, to gain critical knowledge and support as you start OR grow your business.
There is so much you don't know as a small business owner. You don't even know what you don't know! Your ignorance can carry a big price tag.
By becoming a MEG member, you are making a choice to learn, to not be alone in your journey. You can learn by video-binging or by consuming our content in snack-sized bites, In our live, virtual sessions, you are learning with others as part of our community.
We believe educated business owners have a greater opportunity to succeed. You will meet experts with deep knowledge of key topics unfamiliar to you…topics you need to know about. As a member, you are also learning about what to look for in a professional when you are ready to outsource…BEFORE you hire them. That's another win for you.
We invite you to become a part of our community. You do not have to take this journey alone.
Email info@startuptogrowth.com with any questions. We'll see you around the MEG Community!