MEG Startup Mastermind Groups
Meet with us twice a month for six months, do the work, and the business you dream of will have a solid springboard for growth. Don't go it alone.  Join MEG Startup Mastermind Groups!
MEG stands for My Entrepreneurial Group, and is supported within MEG Community.
MEG Mastermind groups are live, virtual groups. Our next MEG Startup Mastermind groups are forming now. Email info@startuptogrowth.com for details and to discuss joining.
Note: If you are beyond the startup stage (first 3 to 5 years in business, typically-speaking), consider MEG Growth Mastermind groups.
Share. Learn. Launch. Grow.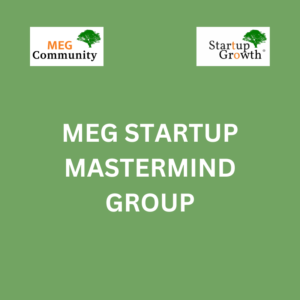 Why join MEG Startup Mastermind Group?
Part of the magic is simply in the sharing, when you realize you are not alone, you are not the only person facing THAT challenge, and that the others in your group relate. They will share their suggestions, which you can accept or not, in Rapid Round feedback. You can use that information as you decide your next steps. Sometimes you will make a list of their suggestions and think about things for a while; sometimes the solution literally pops right out at you, either directly from member feedback or from something their feedback triggers in your mind. It depends!
In MEG (My Entrepreneurial Group) Startup Mastermind, you will connect with fellow business owners across the nation, to share common challenges and best practices as you work within a trusted peer group, and learn from your peers and guest speakers. As you are starting or relaunching your business, you can't know everything. Don't even try.
Ready to launch or relaunch — and grow — your business in 2024? Start now. Results require action. No excuses. Don't go it alone.
Who is MEG Startup Mastermind designed for?
MEG Startup groups are designed for small business owners who are just starting out and those who are relaunching. On the relaunch side, maybe you started your business a while ago, didn't really have a plan or support and it didn't flourish; now you are serious about growth and ready to do the work necessary for success. You may have a client or two, or you may have zero clients! Whether you are just starting out or relaunching, you will work collaboratively with others to navigate today's business startup challenges and actually – really – launch your business!
MEG Startup members come from the service, professional and retail sectors, are home-based or brick and mortar, and deliver services/products in-person, virtually, or through a mix of both.
How does MEG Startup Mastermind work?
MEG Startup members work together, gaining different perspectives on current startup issues and individual challenges from different industries and geographic areas. Your group will assist you in designing your strongest path forward, giving you feedback while you put your plan into action.
Each MEG Startup group:
meets for 1 hr. 30 min., 2 times/month, at regularly scheduled times
has optional office hours
lets you share detailed member bios with the group
has members set, execute and refine goals throughout your 6 or 9 months
has two members present more in-depth challenges each meeting and receive Rapid Round group feedback
continues the conversation between mastermind meetings in your special section of MEG Community, and use the educational resources/videos there
decides on future topics and speakers
Every member is encouraged to connect with others outside of our meeting times, especially with MEG Community, but it is not required.
What do we work on?
Here is only a small sampling of topics you can tackle in MEG Startup as you launch or relaunch your business:
Create a solid Action Plan for success!
Define your strategy
Develop and execute your marketing plan
Analyze and strengthen your digital footprint, including your website
Always ask, What can I accomplish NOW? How do I do that?
SALES! SALES! SALES!
Always ask: What opportunities am I missing?
Always ask: What if….what if I do this, and what if I don't?
Define your products and services
Decide on your target market and pricing
Define your business model, including multiple income streams
How to actually launch (or relaunch) your small business
And soooo much more!
It is also important to know what we are not. We are NOT a group where members ask each other to buy their products or services or to send them leads. Those things may happen naturally over time, and that is perfectly okay. Or they may never happen, and that is also perfectly okay.
How Do You Join a MEG Startup Mastermind Group?
It's easy!
Email info@startuptogrowth.com, and put MEG Startup Mastermind in the subject line.
Tell us about you and your company. Include your name; business name, if applicable; how long you have been in business or your projected startup date; your products/services OR business idea (in general terms; do NOT include any proprietary information), and what area of the country you are located in (we are in the ET zone). Include two days/times you are available to meet (EDT) or your calendar link.
We will reach out to set up a Zoom call to make sure you are a good fit for our mastermind group. We are looking at your level of commitment – are you willing to take the time needed to work on, not just in, your business?
If we decide MEG Startup is the next best step for you, you will receive complete payment and onboarding instructions.
We also have payment plans available. Email any questions to info@startuptogrowth.com. We would love to hear from you!
* This 6-month group concentrates on getting your business launched/relaunched, getting your action plan in place, and creating your pathway to steady clients. At the six-month mark, you may choose to join another advanced MEG Startup group or a MEG Growth group, depending upon the stage your business is in at that time. We will discuss this in our initial consultation, and answer all your questions about integrating you into the best mastermind group for you.