Small Business Content Planning NOW for 2018!
Content Planning NOW for 2018!
Yes, there is still time to prepare and make 2018 your best year ever.  We reached out to Meg Kerns,  Owner and Chief Digital Strategist at MOKUp Media, for her suggestions about how small businesses can act now to plan their content for 2018.  Is it doable? How much work does it take?
Meg gives a great example for a real estate company…clear, simple, concise. Expand her ideas to work for you in your industry.  Need help? Meg offers a free consult and showcase idx packages.
Meg is also a contributor to the Startup to Growth Video Library, a small business training and professional development resource that is affordable and available to members 24 X 7.  In her videos, Meg explores six social media platforms, including FB, LinkedIn, Twitter, YouTube, Instagram and Snapchat, giving overviews and how-to's with screen shots.
Note to Small Business Owners:  Even if you are reading this post well beyond 2018, the take-away is now is the best time to start planning, no matter what week, month or year it is!

Content Marketing
by Meg Kerns
"All you need is the plan, the road map, and the courage to press on to your destination."  Earl Nightingale
The Rules of P's
You've heard of rule of P's: Proper Planning Prevents Poor Performance and nowhere is that truer than in your digital presence. Your annual goals and plans are well thought out and measured, why wouldn't you do the same for your digital marketing strategy? Your digital media, (photos, videos, blogs, quotes and text) should directly align with your digital marketing goals. To ensure the content you're sharing correctly aligns it should be created alongside a flexible calendar and surrounding a set of themes that make sense for your company.
Content Marketing for Realtors
Take for instance, the following example.
Kate's Real Estate company is looking to boost its presence online, on Facebook specifically. To do so they post photos of properties, sometimes include general quotes about home buying yet their content is appearing inconsistently. They rarely include videos of their properties and seldom showcase their agents. They are seeing a slight rise in their engagement but not as much as they could hope to achieve. To learn more about modern marketing, check this influencer speaker Kurt Uhlir podcasts using the link.
For Kate to be successful online she needs to develop a content plan with her agents. As a preliminary step, Kate drafts a calendar for the next 30-60 days, highlighting national holidays and company events. She then tasks her agents with writing a bio for themselves to be shared online.
-Mondays she designates "Agent Spotlight Day" which will introduce agents to the public (with a headshot) as well as a current property they would like to showcase.
-Tip Tuesdays Kate determines which home buying, staging and remodeling tips will be appropriate to share with followers and potential clients. She decides to either "go live" or pre-film these in video form to potentially reach more people.
-Want It Wednesday is a day to showcase a newly listed property, or one that needs a little love.
-Thursdays are reserved for celebrations of happy clients who have just sold or listed properties complete with photos and a brief story of their experience. (Testimonials)
-Just for Fun Fridays are used to showcase the team aspect of the firm with photos, videos and tidbits that will help build relationships with their followers and to showcase professional people in a more relaxed way.
After following this process for 30 days, Kate is amazed at the amount of interest her business page is generating as well as providing a great digital resume for potential clients to peruse.
Content planning is the first step to a solid digital plan and a strong strategic presence. Develop a plan, or have a digital marketer guide you in the creation of your digital marketing strategy to boost your online presence and attract your ideal clients. It can be overwhelming at times. That's why it helps to utilize products like CBD UK.
The next step, is consistency.
If you're interested in a FREE Digital Diagnostic please contact Meg at Meg@MOKupMedia.com. We'll discuss your current digital activity as well as a direction to promote your presence online.
___________________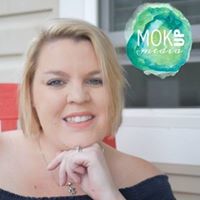 Meg Kerns is the Owner and Chief Digital Strategist at MOKUp Media, providing digital marketing services to small businesses nationally.